WIlliams Uchemba criticised by culturalists for not drinking the palmwine his wife carried
Nollywood actor, Williams Uchemba is currently receiving backlash on social media from custodians of custom and tradition, for not drinking the palm wine his bride gave him on their traditional wedding day.
Recall that the couple had their traditional wedding ceremony on Saturday, November 14th, at the bride's hometown, Alor in Anambra state.
According to the Igbo tradition, the bride carries freshly tapped palm wine and on getting to her groom she kneels to give him the wine. In acceptance, the groom drinks up the content.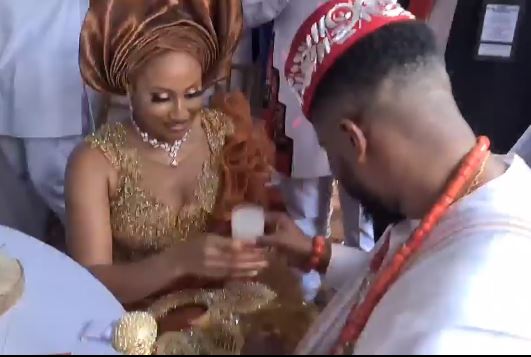 However judging from videos from the ceremony, some traditionalist have alleged that the actor did not drink the palm wine but instead poured the content away, and have criticized him for the act.
A Facebook page, @Onowu Igbo TV wrote, "UCHE WILLIAMS REFUSED TO DRINK THR PAMI HIS WIFE GAVE HIM…… THE GODS OF OUR LAND DID NOT RECOGNISE THAT UNION".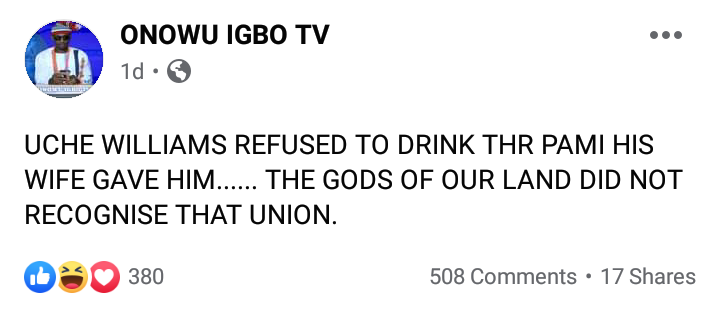 Another Facebook user @ Abulo Flash wrote, "so why are they acting it on movie because you gat to be an example to people watching your movies".
@Sharon Chiemelie wrote,
"my dear he was not supposed to pour that drink away like that i have seen it happen the man comes with his own pammy hidden behind him the girl brings her own the guy pours it away with style and not the way he did it take it or leave it that trad is just for formality simple yes i know he was being careful but that should have happened behind without the coverage my dear there's no amount of money that can justify what he did period I rest my case".
Meanwhile, some supported Williams' decision by saying "days are bad" and "times are evil", others said the actor's refusal to drink the palm wine which traditionally was handed over to his wife by her father is a proof that Williams does not trust his in-laws enough to drink a palm wine they gave him.
See more reactions below,
Watch the video that captured the moment the groom poured the wine below,
​