Eedris Abdulkareem celebrates wife on 16th wedding anniversary
Veteran rapper, Eedris Abdulkareem has taken to social media to shower praises on his wife as they both celebrate their 16th wedding anniversary today, December 11.
The "Nigeria Jaga Jaga" crooner said it was a great honor to be married to his wife and noted that she holds a special place in his heart and soul.
The legendary singer further appreciated his wife for being the source of his joy and his pillar of strength.
Sharing a photo with his wife, he wrote,
"Wow, I can't believe 16 good years has just passed us by. How time flies. It's a great honor and pleasure to be your husband. You are a special part of my heart and soul. You have created a rainbow inside my heart with your heavenly love. Your presence in my life is the sole producer of the joy in my heart. Not only have you remained a good partner to me all these years but you have also been my best friend. I can't thank you enough for being my source of joy and pillar of strength. Happy Anniversary, my sweet love! And may your name SEKINAT, meaning (TRANQUILITY) always bring peace to your heart and also light up your beautiful face AMIN YARABI."
See his post below,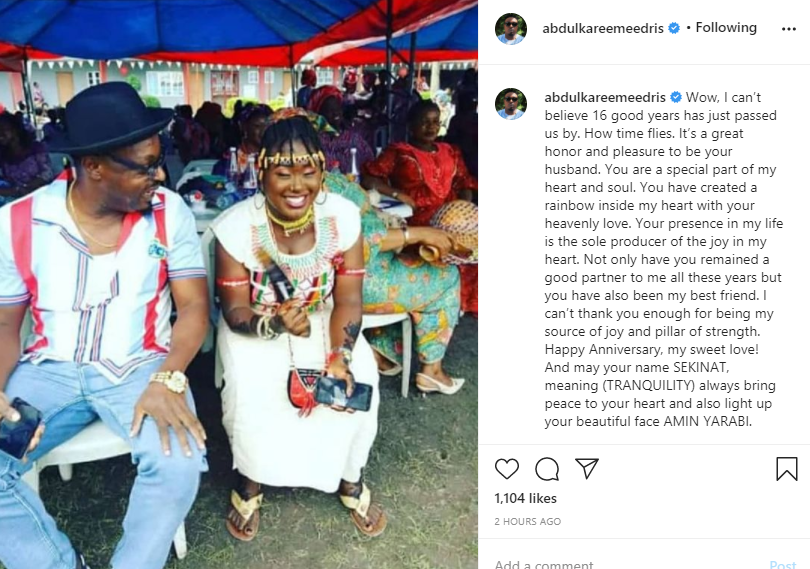 ​