#ENDSARS: Protesters bake cake at Lekki Toll Gate, Lagos.
ENDSARS Protesters converged at the Lekki Toll-Gate are devising creative methods to make themselves feel at home as they make their grievances known to the Federal Government of Nigeria.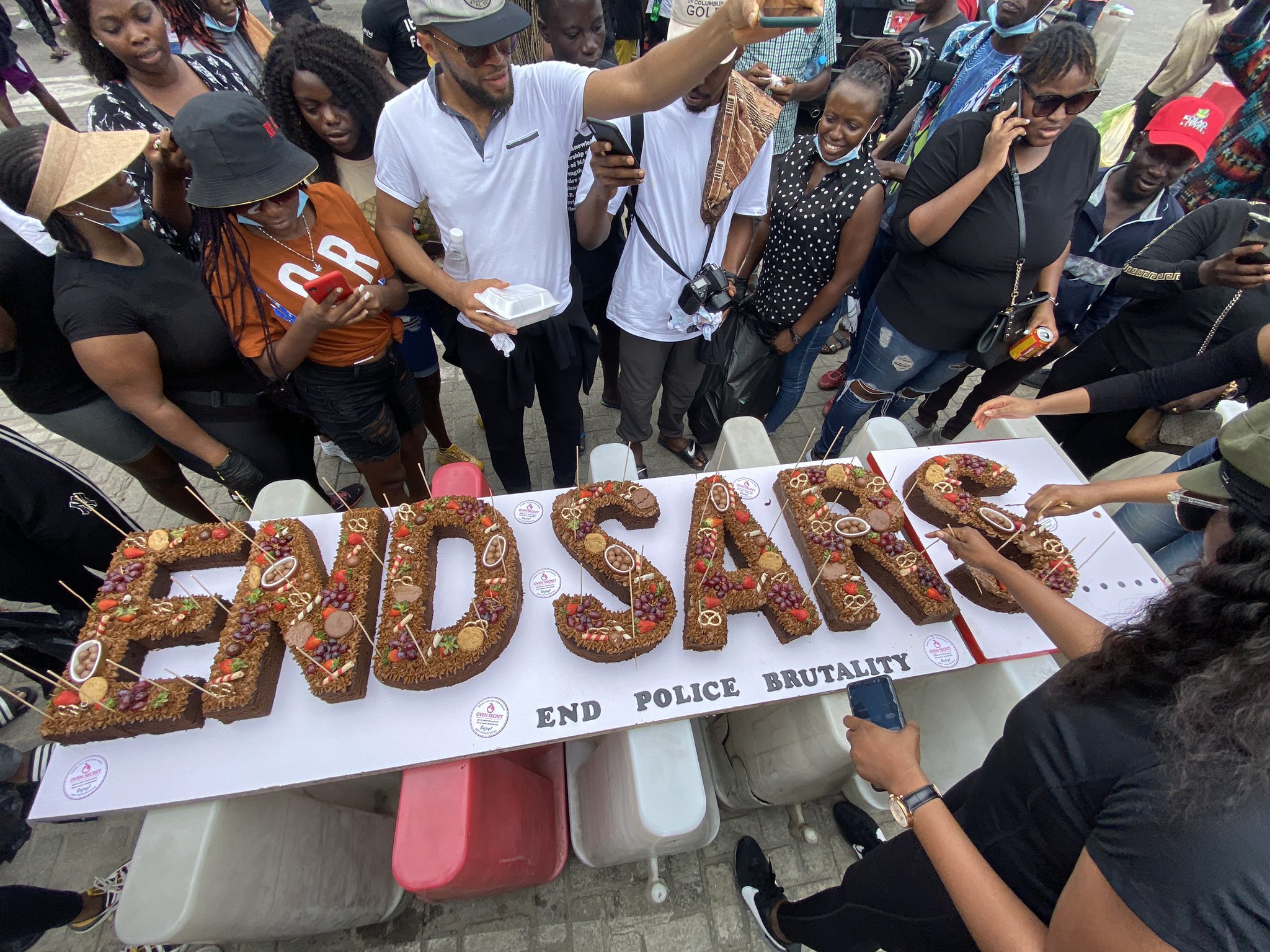 The youths have been occupying that spot everyday for almost a week now and in that time, have coordinated medical supplies, food and other basic amenities.
A photo trending online shows the #ENDSARS cake that was also launched at the venue, much to the delight of the protesters.
Meanwhile, the Federal Capital Territory Security Committee, has prohibited any form of #EndSARS protest in Abuja, over violation of COVID-19 rules.
In a statement released on Thursday, October 15th, the committee stated that despite the scrapping of the Special Anti-Robbery Squad by the Inspector-General of Police, the protests had continued, causing inconveniences to law-abiding citizens.
According to the committee, the #EndSARS protest endangers the lives of the demonstrators, as well as other residents of the capital territory, emphasizing that the protesters have failed to comply with COVID-19 guidelines.
The statement reads,
While the committee recognizes the rights of citizens as regards freedom of association and movement as enshrined in the constitution, it has observed that the unruly conduct of the crowd and manner of demonstrations are in complete violation of the COVID-19 safety protocols which were put in place to safeguard the lives of citizens.
These violations endanger the lives of not just the demonstrators, but also other citizens going about their legitimate concerns.
For the avoidance of doubt, the COVID-19 guidelines regulating public gatherings recommend physical distancing, temperature checks, the use of facial coverings, amongst others.
Clearly, all these guidelines were flouted by the protesters. Consequently, the committee directs that due to the dangers posed by COVID-19, all street demonstrations, protests and processions will not be allowed anywhere within the FCT.
​