Tinubu, Dogara Campaign Pictures Surface Online For 2023 Presidency
Ahead of the 2023 presidential elections in Nigeria, a lot of political permutations and reactions have continued to spring up about who will become Nigeria's next leader in 2023.
President Muhammadu Buhari will finish his tenure in 2023 and he is constitutionally barred from seeking another term in office which automatically means Nigerians will be having a new president by 2023.
While some politicians have publicly declared that it is too early to speak about 2023 presidential ambitions while issues of governance need to be attended to, it is understood that politicians, as well as political parties, won't wait till the last minute and have started oiling political mercenaries ahead of the general elections.
It was, therefore, not too surprising when pictures of campaign vehicles supporting the presidential ticket of Asiwaju Bola Tinubu, National Leader of the All Progressives Congress (APC) with Hon Yakubu Dogara, former Speaker of the House of Representatives emerged online over the weekend.
It could be deduced from the photo with the inscription "support Tinubu/Dogara 2023" that the push is from a group identified as the Gombe State Youth Forum
It will be recalled as earlier reported  last week that Dogara held a closed-door meeting with Asiwaju Bola Tinubu in Lagos State.
Others at the closed-door meeting with the former Governor of Lagos State were, Minister of Education, Adamu Adamu, Bauchi State APC Chairman, Uba Ahmad Nana and Bauchi Central Senator, Halliru Dauda Jika.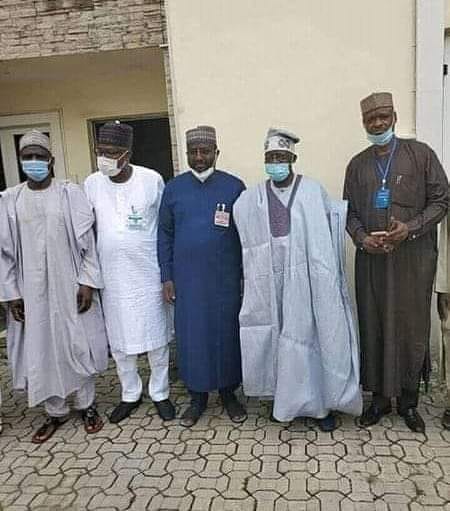 This comes few days after Dogara in July, dumped the Peoples Democratic Party (PDP) and returned to the APC with suggestions from some quarters having it that the former Speaker defected to the APC with the hope of getting the party's 2023 Vice Presidential ticket.
Notably, the Coalition of United Political Parties (CUPP), said that APC may have lured Dogara into APC, using the propaganda of northern Christian VP to Tinubu.
CUPP in a statement by its spokesman, Ikenga Imo Ugochinyere said: "I hope they have not used the propaganda of northern Christian VP to Tinubu to lure my very good friend to the APC party that might not survive the upcoming intraparty 2023 crisis."
However, this online news platform reports that the APC had in the wake of the Dogara defection, denied any plans to fly a Tinubu/Dogara presidential ticket in 2023.
Mai Mala Buni, Chairman of the All Progressives Congress (APC) Caretaker/Extraordinary Convention Committee, in an interview with BBC Hausa when he was asked whether Dogara joined the party so that Tinubu/Dogara would contest to have Muslim/Christian ticket, he replied: "These are mere rumour and rumor strive in democracy. That's not even our concern for now."
On his part, Dogara alluded to failure or breakdown of governance in his native state of Bauchi under the administration of Governor Bala Mohammed as his reason for dumping the PDP for APC.
Similarly, it will be recalled that Tinubu himself had in a statement on Saturday, 27th July 2020, stated that he was yet to make a decision regarding his 2023 presidential ambition.
He said: "I am but a mere mortal who does not enjoy the length of foresight or political wisdom you profess to have. Already, you have assigned colourful epitaphs to the 2023 death of an alleged political ambition that is not yet even born.
"At this extenuating moment with COVID-19 and its economic fallout hounding us, I cannot see as far into the distance as you. I have made no decision regarding 2023 for the concerns of this hour are momentous enough.
"During this period, I have not busied myself with politicking regarding 2023. I find that a bit distasteful and somewhat uncaring particularly when so many of our people have been unbalanced by the twin public health and economic crises we face."
As Nigeria and Nigerians count down to the 2023 presidential election, it remains to be seen who will emerge but citizens will be hoping their votes will count in determining who becomes their next leader.