"Marrying two men is greater than marrying one man" – Nigerian Lady says
A lady simply identified as Brisbane has taken to Twitter to share the benefits of marrying more than one man.
Brisbane who happily flaunted her two husbands on the micro blogging platform revealed that to marry two men is in every way greater and better than marrying one man.
In her tweet, the happy wife to two men, in her tweet used the mathematical Greater Than sign (>>>>) to indicate that marrying two men is greater then marrying one man.
In her words,
"Marrying 2 men>>>> marrying 1".
She shared photos of herself and the two men in her life and they looked extremely happy together.
However, her post has stirred reactions on social media and has taken the opportunity to reveal that she is still searching and thereby taking applications for two more husbands.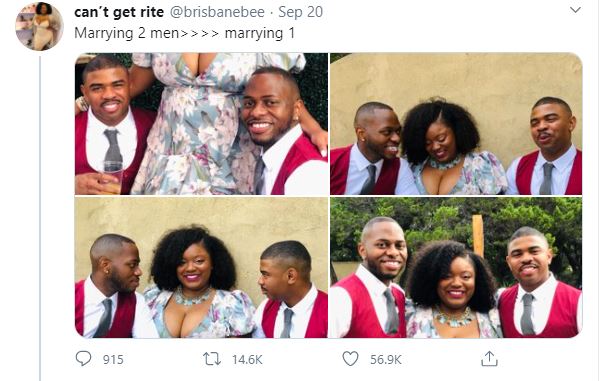 See more photos below,
​